SureCrete's Eco-Stain colors concrete surfaces in a liquid form semi-transparent concrete water based stain floor color that puts you as the applicator head and shoulders above your competition. Unlike most concrete stains commonly used in the decorative concrete market today, Eco-Stain uses an eco-friendly; water-based formula that contains zero VOC's and has no pungent chemical aroma. The semi-transparent stain is not like solid painting concrete.
So how does it work? Unlike acid stains which perform a chemical reaction once in contact with the surface of the concrete to achieve their color, Eco-Stain for concrete floors is a penetrating concrete stain which gives much more control over the design and colors you may want to apply to your project. Giving you more control isn't the only benefit, though. Since it is a water-based solution, there is no need for any neutralization or clean-up! As soon as the product has been down long enough to be dry to the touch, you're ready to seal! No in-between steps to slow you and your crew down!
On top of these wonderful benefits over other manufacturers, we've made sure that the pigments used in Eco-Stain are UV-Stable, so as long as a sealer is applied; the colors will not fade or yellow when subjected to sunlight. And since we made the pigments so stable, we thought it would also be a good idea to give you more of them. The Eco-Stain standard color chart houses 29 vibrant stock colors to choose from, and these colors can be mixed and matched to your content to achieve a literally limitless color palette including white stain.
Where can I use it? Unlike concrete acid stain, Eco-Stain is an extremely versatile product, and as such, it can be applied in a nearly unlimited range of substrates and locations. Many will use our water-based eco-stain to add more depth of color to a freshly poured or stamped and textured slab or on fresh concrete overlays. Its uses aren't limited to just new concrete, though. An old slab that, at one time, may have had vibrant color can be revived using our Eco-Stain product along with a fresh coat of sealer. This stain can even be used to color precast concrete countertops and sinks, as well as architectural or sculptural cast cement. Its uses are nearly limitless for exterior concrete and interior paint stains.
Eco Stain Semi-Transparent Concrete Stain
EcoStain Packaging:
Size : 4 oz jar
SKU : 35102012-C
Size : 1 qt Container
SKU : 35102013-C
Size : 1 Gallon
SKU : 35102009-C
Note: (-C = Color)
Applying Concrete Stain Video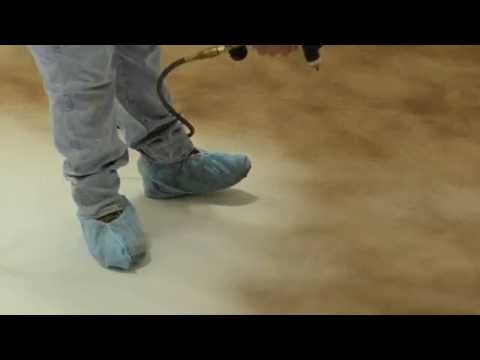 Here's a list of some common places where you can use EcoStain concrete water based stain:
Kitchen Concrete Floors
Kitchen Countertops
Bathroom Concrete Floors
Bathroom Countertops
Shower Walls
Shower Concrete Floors
Residential Living Area Concrete Floors
Color White Concrete
Patio Concrete Floors
Pool Decks
Retaining Walls
Driveways
Sidewalks
Commercial Concrete Floors
Themed Concrete Areas (IE – Theme Parks)
How to use Semi-Transparent Concrete Stain on Floors Videos:
Who Should Use Eco-Stain Semi-Transparent Concrete Color?
This is a product that is not meant to be solely used by the licensed contractor. As it is extremely easy to apply, we encourage homeowners and DIY "weekend warriors" to pick it up and try a bottle in their own homes and projects and concrete floors. Our color interior concrete stains semi-transparent accent concrete color provides many benefits over other staining products for a homeowner that is looking to improve or re-design an area of their living space.
First, it is very easy to use – there is no need to rent special equipment or take any kind of training to be able to use the product. It can be sprayed, painted or simply poured out onto your surface. And if you mess up, you can simply wash away the unwanted stain with water! And second, Eco-Stain is extremely eco- and user-friendly. It is completely non-caustic and can be applied by anyone since there is absolutely no aroma or chemicals being released into the air during application. It can be touched with bare hands without fear of chemical burns or skin irritation.
If you are a professional, the simplicity and versatility of transparent concrete stain can help you to seriously cut job costs by cutting out a lot of labor and training associated with typical concrete staining by no longer having to deal with chemical residue clean up or acid pH neutralization. It will also help you land new jobs you may have previously turned down in two very important ways:
As a water-based, eco-friendly interior exterior cement staining product, it can help to generate LEED points on jobs where this keeping the environment safe is a high priority. With a wider color range and more control over how that color is applied, you'll be capable of creating a much larger variety of custom designs for your clients. Since it is so versatile in the different types of substrates and locations it can be used in, you will be able to keep a few colors on hand to be able to do a multitude of different jobs on an as-needed basis, making you much more flexible than your competition in getting jobs done now, rather than later.
How to Apply Water-Based Semi-T

ransparent

Concrete Color?
Eco-Stain is probably the easiest one of our products you could attempt to use. Really, there's more work in preparing your surface than there is in staining it!
Clean your surface – Whatever substrate you are applying this color too, it must first be clear of all other stains and/or sealers that were previously applied.
"Profile" your surface – Since our colorant is a penetrating water based color, the surface must be able to have water penetrate into it! Otherwise, the coloring will simply sit on top of the concrete and never dry into the surface. Profiling is typically done mechanically or with some form of mild chemical, we suggest the use of SCR – Super Concrete Renovator to take care of both steps 1 and 2 in this application process.
Apply your stain! This can be done in any number of ways, with any number of tools! For more control, we suggest using a fine brush or airless sprayer. However, for "messy" looks, this product can be simply poured out onto your surface and spread around with something as simple as a paint roller or a towel!
Once the Eco-Stain is dry to the touch (none comes up when you swipe your finger across the surface of your floor or countertop), an appropriate sealer should be applied to preserve the integrity of your project. For exterior projects, we suggest using a clear acrylic sealer such as HS 260 or Super 20, and for interior projects we suggest the utilization of any number of Epoxies, Polyurethanes or Polyaspartics.
Frequently Asked Questions:
How long do I have to wait before sealing this color?
Only as long as it takes to dry! This will vary greatly depending on the local temperature/humidity as well as how much Eco-Stain was used in the
project. The more stain you use in a given area, the longer it will take to dry.
Can you make Eco-Stain look like Acid Stain?
In short, yes! Depending on the reactive acid stain color you are looking to achieve, different colored Eco-Stains can be applied at various dilution rates
to simulate the earth-toned reactive color scheme you typically get from Acid Stains. Grab some colors and give it a try! You can always wipe it up with water
and try again!
Why does my stain fade over time?
There are multiple reasons depending on the situation, but for most cases, it boils down to two main reasons: UV exposure and sealer degradation. Unlike
Eco-Stain, chemical stains are not UV-stable, and therefore will fade over time if exposed to direct sunlight. And whether you have a chemical stain or
eco-stain applied on your surface, all colors will fade if a sealer is not correctly applied and maintained. Over time, sealers fade and need to be
replaced or "replenished" with a fresh coating.
How far can it be diluted?
The short answer would be: as far as you want! As these stains are made available in a concentrated format, they are typically diluted on site depending
on the color density you are looking to achieve. The more the stain is diluted, the weaker the color will be. Once you dilute so far, however, the stain can
lose some of its properties as is spread too thin across a surface.
Specs and Properties of Eco-Stain
Coverage 200 square foot per gallon undiluted
VOC Rating 0 g/L
Shelf Life 1 year in original unopened container
Ready for Sealer Dry to the
touch (time frame varies on environment)
Summary
Brand Name
Product Name
Semi-Transparent Concrete Stain Water Based
Price
Product Availability